THE Federal Government has revealed the reason 101 convicted Boko Haram terrorists and those awaiting trial were moved from Kirikiri maximum and medium centres in Lagos State to a deradicalisation camp.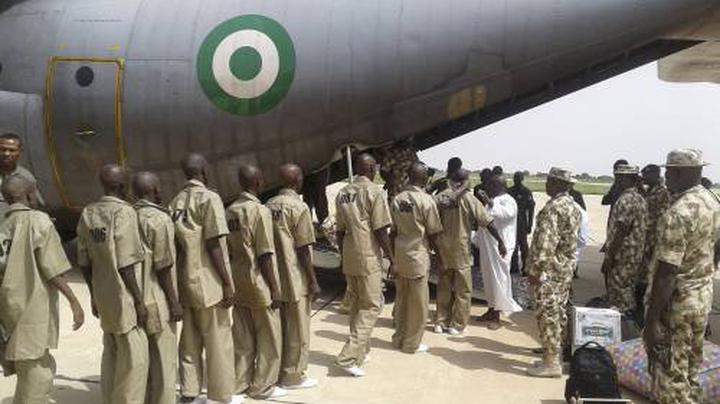 Naija News reports that several reactions have trailed a media report that the terrorists were part of a swap deal with the terrorists for the release of travellers who were abducted in Kaduna on March 28.
The source disclosed that the terrorists had spoken about their release happening before a new administration took over, adding that the released terrorists were aware of the recent Kuje jailbreak.
Speaking with State House correspondents on Friday, the Chief of Defence Staff (CDS), General Lucky Irabor, said the convicted terrorists were moved from Kirikiri prison to the camp for onward reintegration into society.
Irabor made the disclosure after the National Security Council (NSC) meeting at Aso Villa in Abuja, presided over by President Muhammadu Buhari.
Irabor said the ex-terrorists were moved from the custodial centre to Operation Safe Corridor which was established to receive repentant terrorists.
The CDS added that the convicted insurgents are currently undergoing the process of deradicalisation at the centre before they are reintegrated into the society
He said, "The council was also briefed that a total of 101 ex-combatants were taken to Operation Safe Corridor and currently undergoing the process of deradicalisation at the centre.
"These were ex-combatants that have been in detention for several years some of whom have served their terms, others were those who were awaiting trial because of the long time that they have been involved and in line with the procedure for handling anyone who has been exposed to terrorism and related offences."
THE wife of the All Progressives Congress, APC, presidential candidate, Bola Tinubu, Remi, has hinted on a Christian-Christian ticket. Mrs...
Read more